Best Buying Experience
The purchase of a new home is one of the biggest investments you can make. Choose an agent with the tools, expertise, and experience necessary to get you the best result.
GO-IT-ALONE
Flipping through pictures of possible homes might not be so bad, but researching local trends, market values and other vital info can be daunting.
BUYING WITH US
A curated shopping experience with recommendations specifically tailored to meet or excess your expectations.
GO-IT-ALONE
Spend hundreds of hours online searching for potential properties.
BUYING WITH US
Curated house-hunting process & only invest your attention in properties that actually meet your requirements.
GO-IT-ALONE
Rely only on your own knowledge of the market & invest significant time in gathering information from all over.
BUYING WITH US
Work with an agent who has knowledge and remarkable experience in the local market, with countless awards, thousands of transactions, & decades of experience.
GO-IT-ALONE
Unless you have some sort of insider knowledge, or crystal ball, you're not gonna know as much as you should about certain neighborhoods. To learn these things, you're gonna have to do some internetting, hop on Yelp or ask around a bit.
BUYING WITH US
With years of experience under my belt, I'm a true local expert. I can tell you all about the school districts, zoning codes, and where to find everything from the hottest coffee to the coldest ice cream.
GO-IT-ALONE
Even if you're a skilled poker player and have a black-belt in negotiation, it's still important to do your research. You'll be working directly with the Selling Agent & trust that you're not being taken advantage of throughout negotiations & closing.
BUYING WITH US
Thanks to our vast knowledge of market conditions and comp sales, I'll be able to help you drum up a competitive offer at the best possible price. I'll fight to protect your interests.
How to buy like a pro!
If you're in the market for a new home, check out these 11 tips on how to find the best possible real estate deals in your area.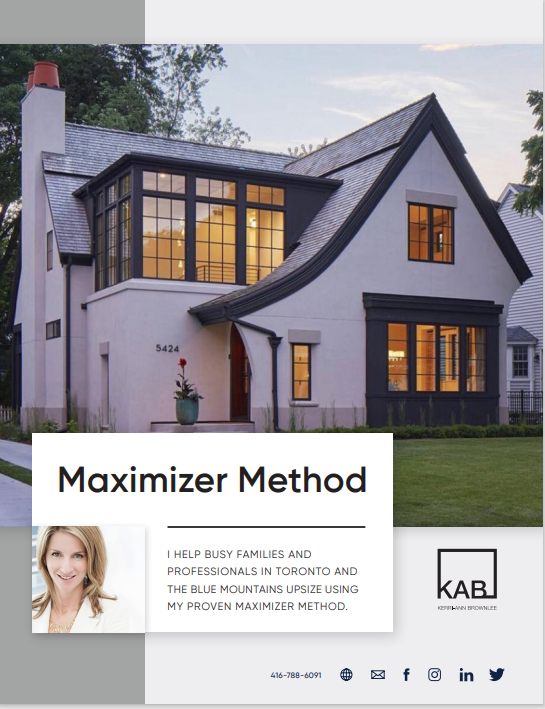 how to buy like a pro
Free Buyer's Guide
Comprehensive Real Estate
Buyer's Guide
A few of our amazing clients.
"This was our first time selling a house. Kerri-Ann did an amazing job guiding us through the whole process.  By the time the house came to market, she had already earned more than her fee. Her pre-sale due diligence discovered what prior real…"
Todd & Willemien - Collingwood
"Kerri-Ann played such an instrumental role in assisting me with my condo purchase, especially during a challenging market and with me being on a time crunch.  Not only did she do all of her research, but she was on top of any conditions that could…"
"Understanding a client's needs, style and taste is part of what makes a great agent. We didn't see hundreds of homes over 8months before we bought this one. We saw a handful. The properties were well vetted before we set out to see them. This…"
The Couvrette's
A True Professional
"In less than 2 years, we made 2 big moves. We went from first-time buyers to first-time sellers (and buyers again!). We couldn't have done it without Kerri-Ann. In this market, we knew we needed an agent with her finger on the pulse. Her extensive…"
Kelsey & Mike - Toronto/Hamilton
Beyond Our Expectations
"I absolutely loved working with Kerri-Ann. She helped me find my investment vacation property in Collingwood/Blue Mountains. She immediately set me up with an automatic email listing notification. This meant I could view the property matches the…"
Kelley - Collingwood / Blue Mountains
Beyond Our Expectations
"I have worked with Kerri-Ann for almost a year now looking for the right place in which to call home. Kerri-Ann has been the most gracious, caring, and understanding agent during this process. I was looking for something that I could feel…"
Johnathan B., Toronto
Honest Agent
"Over the past 5 years, my wife and I have bought and sold a downtown condo, and bought a larger condo, post getting married. Kerri-Ann brings to the table all that you want, require, and expect from a seasoned professional. She's reliable,…"
Dave & Debrani Hammond
Trusted Professional
"Highly Recommend"
Matt Hellin, Toronto, ON
Highly Recommend
"It's late in coming but nonetheless sincere .. we really appreciated your willingness to help us both sell and buy well outside of the city. We won't hesitate to recommend you, and as we have been for the past year, will continue to refer family and…"
Chris & Nancy Sewell
Top Notch
"Knowledgable & Informative"
Alnoor & NIssan, Toronto, ON
Knowledgable & Informative
"Thank you for your help with the purchase of our first home. Your patience and understanding was greatly appreciated. You consistently met us prepared, organized and knowledgeable about the neighborhoods we were visiting. We especially appreciated…"
Domenic & Joanna. Toronto, ON
Excellent Experience
"The purpose of my email (deserves a written letter but I will never get to it) is to tell you about one of your Advisors – Kerri-Ann Brownlee. I was looking to buy a town house or loft in downtown Toronto, and as six degrees of separation often…"
Tony Chapman
Beyond my Expectations
"It was such a pleasure to work with you in the purchase of our first home. You came highly recommended to us and did not disappoint. Your keen outlook, youthful energy and industry knowledge really helped us to feel at ease during the entire…"
Leah & Mike Lord
Hard Working Professional
"Fantastic"
Candice & Steve, Toronto
Fantastic
"Thank you so much for doing such a great job with both the buying of our new home and the selling of 97 Ronan Ave. We got much more than we ever thought possible. You have fully earned our professional trust and we look forward to doing business…"
Shane & Cabrina Skillen
Thank You!
"Earlier this year, we decided to sell our beloved one-bedroom condo and purchase our first and "Forever" home. In less than a month we found our perfect home in our first choice neighbourhood. Kerri-Ann Brownlee is the only realtor we could…"
Jess & Dan Buganto, Toronto
Personable & Professional
"Our property was a very complex sale, being a four-plex and therefore strategy was the most important part. Kerri-Ann set up the sale for success from the beginning by ensuring proper pricing and proper timing for going to market. There were many…"
Bruce & Trica Tanton, Toronto
Complex Sale - Stellar Negotiator
"Kerri-Ann has represented us on three occasions (the sale of two prior homes and the purchase of a new one), and if the need arises we would not hesitate to use her again. In each instance, she displayed a keen knowledge of the real estate market,…"
The Lams, Toronto, Ontario
Exceptional
"We recently engaged Kerri-Ann Brownlee to list and sell our home in North Toronto. Like many, our home represents a significant investment and when the time came to downsize, we wanted to ensure the best return possible. We chose Kerri-Ann because…"
Jack Fleishman & Toni Stevens
Top Performer
"Over the past 5 years we've had the pleasure of working with Kerri-Ann on multiple real estate transactions. When it came time to list our Lawrence Park home, Kerri-Ann was our obvious first choice.Her deep understanding of the complex and fast…"
Michael H. McCain, Toronto
Unparalleled Service